Streamix M1
Portable 6-Channel SDI/HDMI Live Stream Switcher
Introducing Streamix M1, the latest portable multi-function integrated live stream switcher from Hollyland! With 6 video inputs, Streamix M1 allows you to live switch up to 5 video feeds in SDI, HDMI, Network Flow, DDR and from mobile phone camera (via Streamix APP). Fitted with audio inputs and outputs of XLR and TRS standards, connecting to microphones or mixing consoles to realize rich audio control is simple and handy. In addition, the Streamix M1 also comes with a 3.5mm audio output for real-time audio monitoring.
Live Streaming from Anywhere at Anytime


Multiple Platform Streaming

Wired / Wireless Connection

PTZ Camera Control & Streaming


Picture in Picture
Function


XLR/TRS Hybrid \Audio Interface


With 256GB ROM, Streamix M1 supports recording of the video stream at a single click. Live streaming your show to multiple platforms such as Facebook, YouTube and any RTMP-supported platforms can be done with wired or wireless Internet connection. What's even better, Streamix M1 allows you to adjust video aspect ratio and switch between portrait mode and landscape mode. If that wasn't enough, Streamix M1 also features Multiview function that enables the users to arrange multiple videos on one screen intuitively and seamlessly.

From sports events and esports tournaments to corporate meetings and trainings, 
Streamix M1 is always your perfect choice.
Streaming Beyond Your Wildest Imagination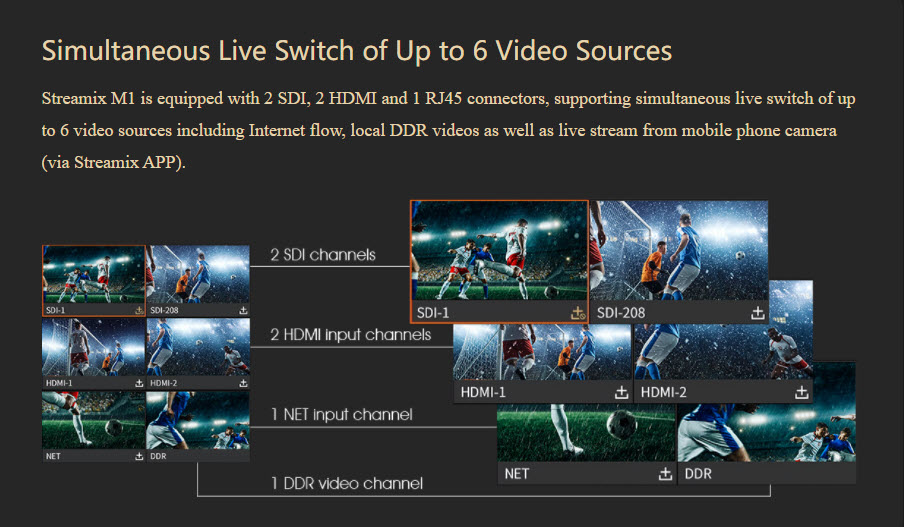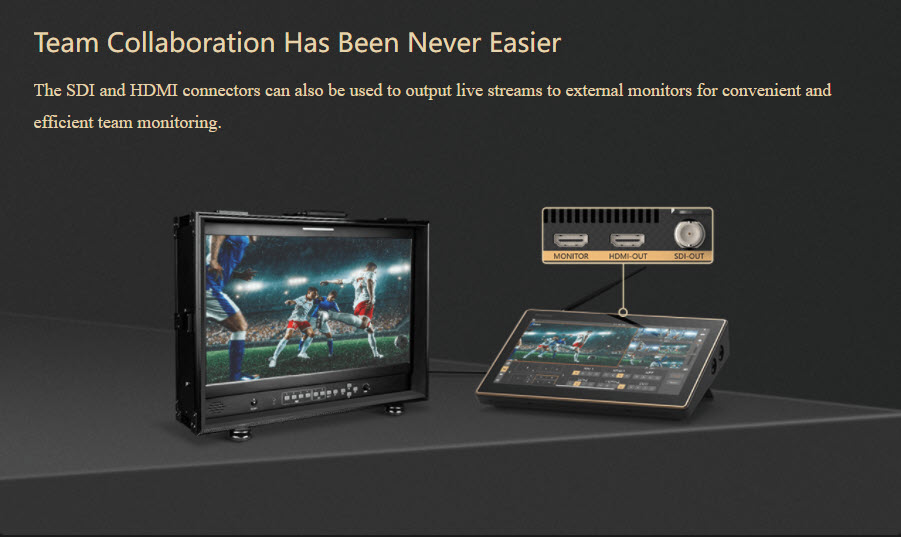 As Long As It's RTMP Supported,
We Got You Covered!
Streamix M1 supports live streaming to up to 3 platforms such as Facebook, YouTube and any RTMP-supported streaming platforms. With just a single click, your work gets to be streamed to various platforms, multiplying your audiences and business instantly.
Gigabit RJ45 Port for
Wired/Wireless Connection
With wired/wireless network connection, Streamix M1 handles all kinds of usage scenarios with total ease. In addition, you can check real-time network connection status on the control interface to maintain a continuous network connection.

* Streamix M1 prioritizes wired network over wireless network if both present.
* WiFi connection is recommended when using the live stream switcher outdoor and needs to move it constantly.
Remote Live Streaming Made Fast & Easy
Featuring wide compatibility, Streamix M1 can be used with Hollyland Syscom 421 through wired connection. Together, this setup realizes wireless transmission of up to 4 videos quickly and simply.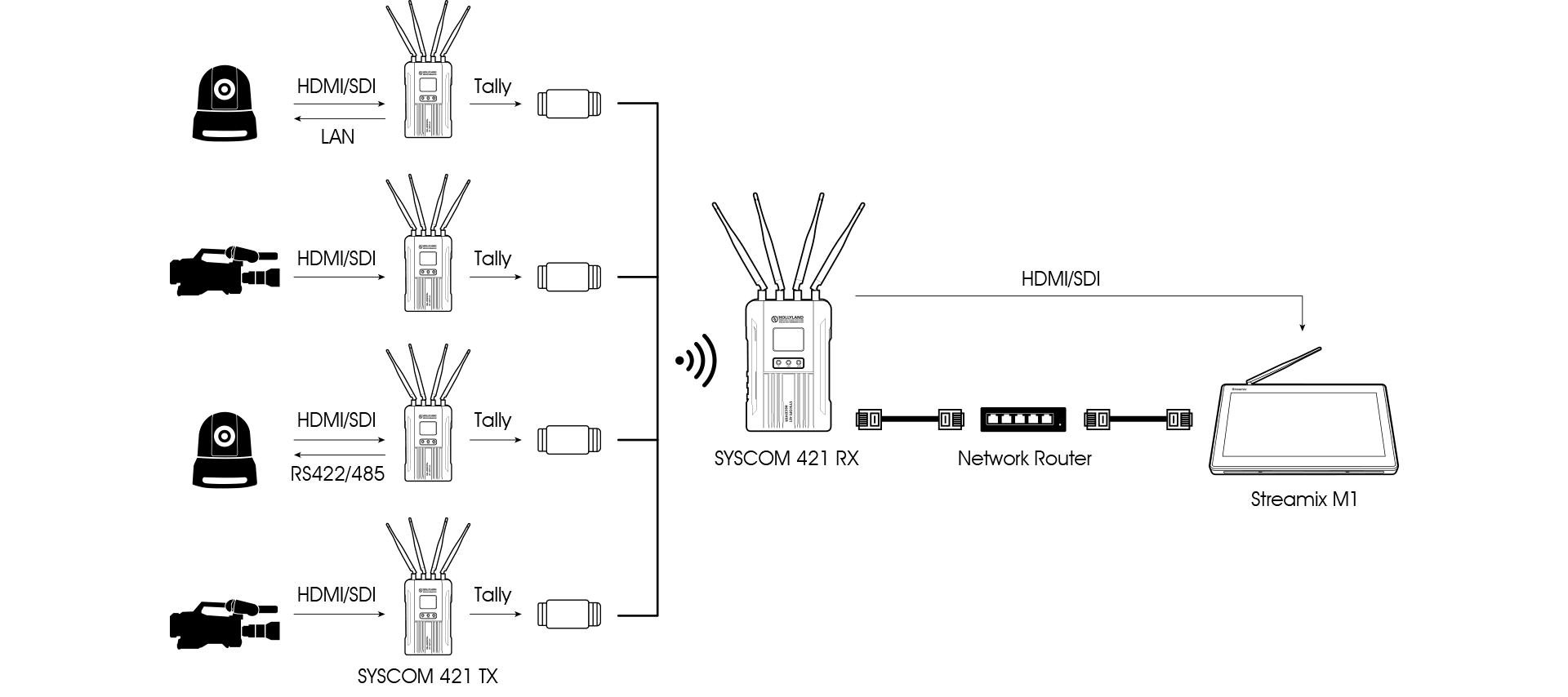 Real-Time PTZ Camera Control
& Streaming Available
If you are already a PTZ camera user, then the Streamix M1 is exactly the live stream switcher you will need! Connecting the live stream switcher to the camera via an RJ45 cable, multiple features are realized: video streaming, real-time camera control, remote camera parameters setting including direction, zoom, focus, aperture, etc.

Note: Camera control is unavailable through HDMI/SDI connection.
256GB RAM, Intelligent Power
Outage Protection and More!
With 256GB RAM, the live stream switcher allows you to record the ongoing program while inputting local videos to the switcher. Meanwhile, Streamix M1 is endowed with intelligent power outage protection function which makes sure that your files are safe and sound in a power outage.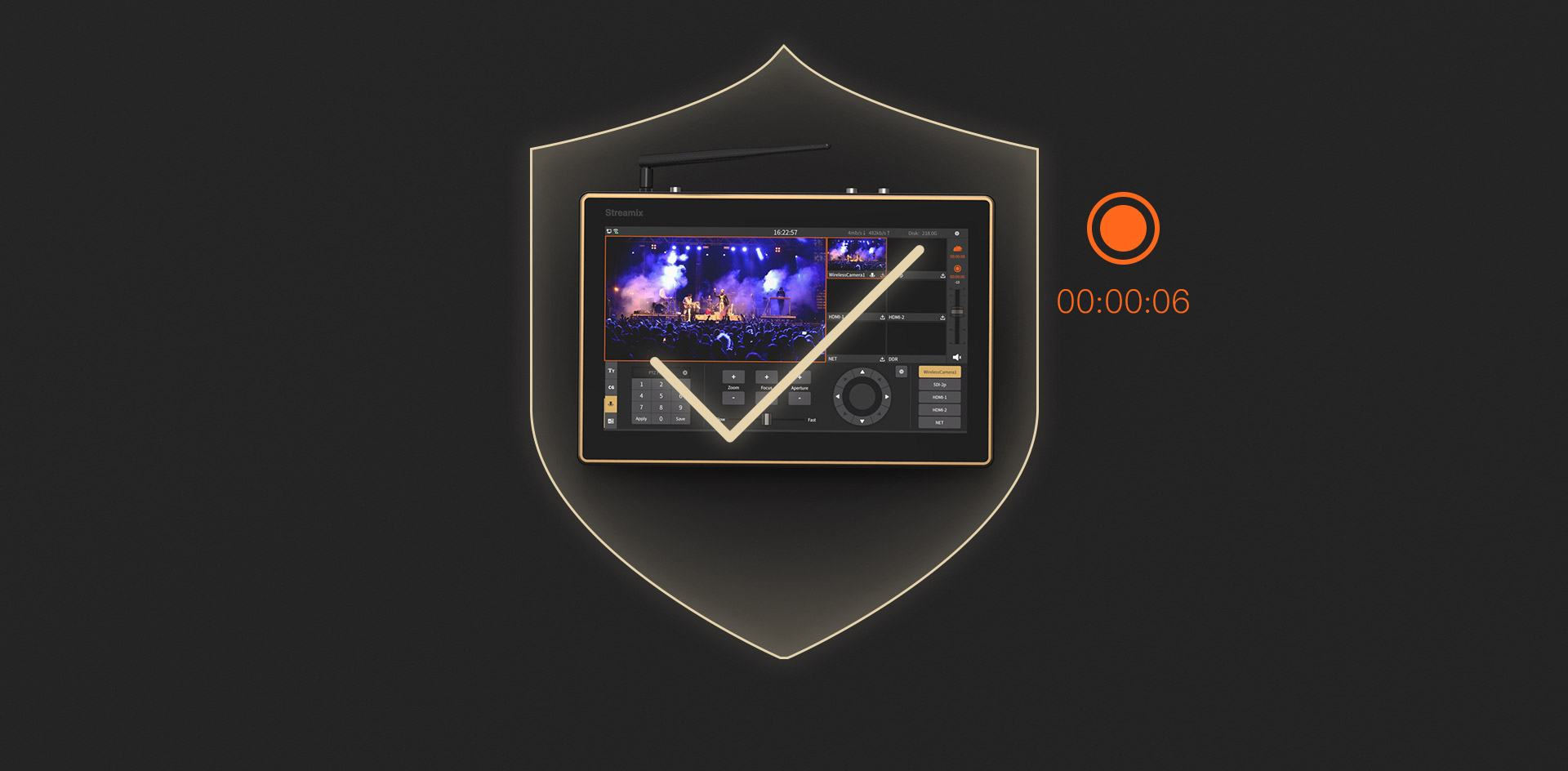 Unleash Your Creativity
with Multiple Built-In Effects
To meet the needs of the ever-increasing types of live streaming, Streamix M1 offers a variety of program adjustment functions from aspect ratio adjustment, switch between portrait mode and landscape mode to picture in picture effects with maximum 4 videos. What's more, the program size and layout can be customized according to the specific situation. In addition to this, the live stream switcher also comes with multiple screen switching effects at zero delay, bringing to the audiences buttersmooth watching experience.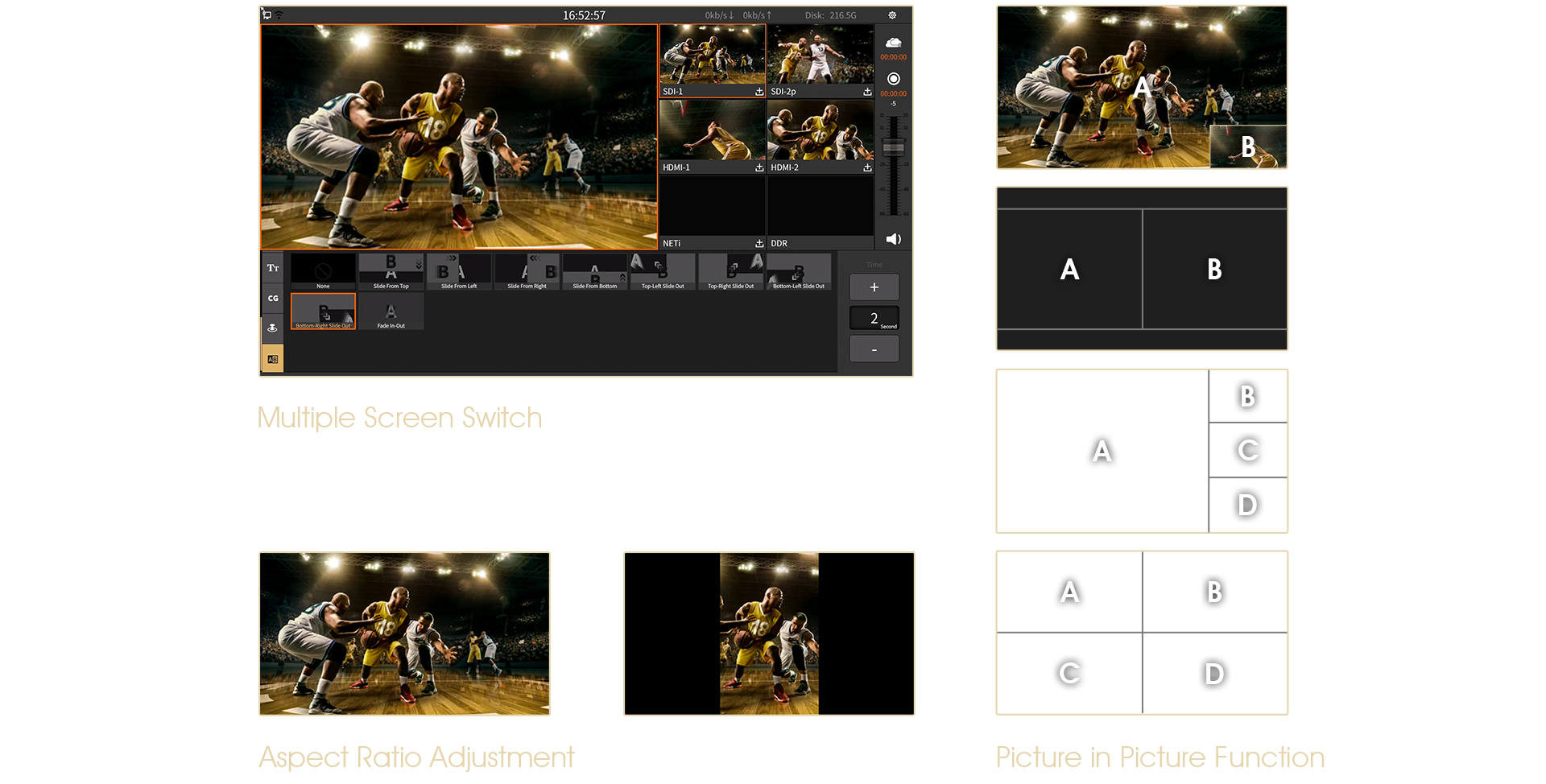 A Library of Overlays Awaiting You
Streamix M1 offers a library of overlay effects to users to spice up the live stream. You can add pictures, emojis, texts and other content to the program with its built-in templates or customized templates imported from other devices via the USB connector.
The built-in templates include scoreboard templates of basketball, football, badminton and other sports. More than that, you can also customize your own templates according to the needs of specific sport.
Top-Notch Audio Experience
Streamix M1 is equipped with an XLR/TRS hybrid audio interface for professional audio input and output: 1) Input: Satisfies the needs of host audio importing and voiceover importing; 2) Output: Connecting to an external audio mixer to add a professional touch to your video.
Besides the hybrid audio interface, Streamix M1 is also fitted with a 3.5mm audio output for real-time audio monitoring from an external headphone.
Built-In Analog Mixer to Add A Professional Touch
On the live stream switcher, you can also find a built-in analog mixer. With its professional mixer operation interface, you get to mix multiple audio tracks, intuitively adjust the audio volume via the touchscreen. Creating a fabulous live stream has never been this easier!
Instant Remote Connection
Through WiFi or by cable, two remote live stream switchers can be connected by entering a unique director code of the setup. This way, the two switchers are able to share their screens and cross-regional live broadcasting is made available thereof.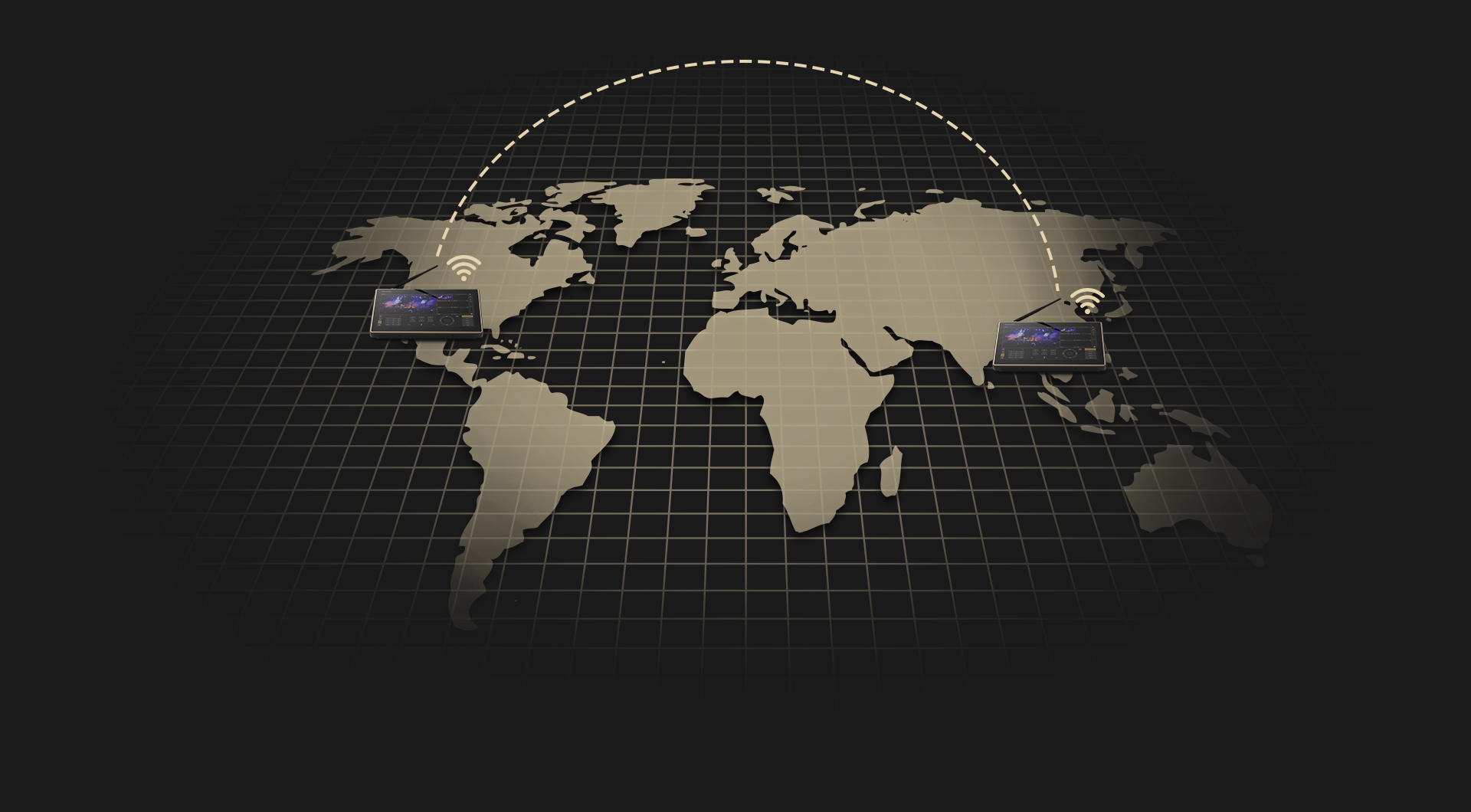 Buttersmooth Streaming at Any Bandwidth
Multiple video bitrate options are available with the Streamix M1 during video recording or streaming. Besides the default bitrate options (1Mps, 2Mps and 4Mps), users can set customized bitrates according to characteristics of specific platforms and bandwidth.
Streamix M1 offers 4 video resolution settings for live streaming, maximum 1080P.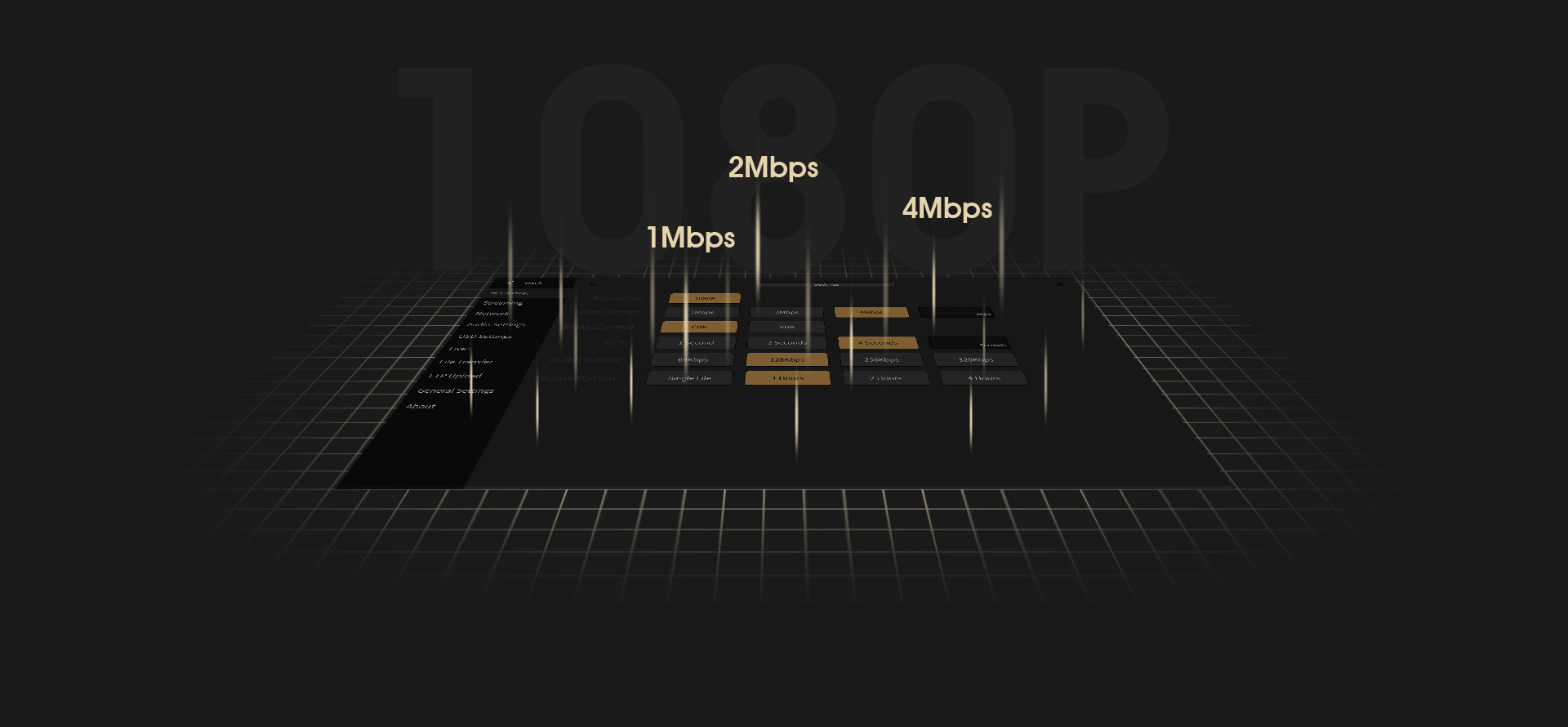 Inspiration At Your Fingertips
The 11.6 inch HD touchscreen boasts a professional and concise interface for intuitive and precise operation. You may also operate the Streamix M1 with the mouse connecting to the USB-A interface.
On-Site Production Just Got Easier
With a palette of program templates, Streamix M1 equips you with the most popular graphics on-site production requires.
Thoughtful Heat Dissipation Design
The specially-designed cooling system of Streamix M1 offers 10 different fan speeds, taking the temperature down with uncompromised performance.