Enhanced Audio Quality

Enhanced Audio Quality

Enhanced Capacity
Adopting self-developed Noise-Cancellation Algorithms and a super-wide frequency response, Solidcom M1 delivers authentic and premium sound at broadcast-level sampling rate.
An integrated panel antenna is embedded in the base station for effortless setup. Featuring minimalist button design, the beltpack provides you intuitive operating experience. In addition, settings and grouping of the whole set can be adjusted easily via base station, APP or web.
Each standard Solidcom M1 package comes standard with 8 beltpacks and supports cascade connection of multiple devices as well as maximum 3 communication groups.
Live Streaming from Anywhere at Anytime
For the first time in the industry, an integrated panel antenna is inserted into the base station. Besides, Solidcom M1 is also equipped with a pair of external FRP antennas. Combining these 2 antenna options, Solidcom M1 significantly improves on-site work efficiency and flexibility, and prolongs transmission range to a great extent.

Built-In Panel Antenna
With up to 1300ft (400m) one-way transmission range fronting the panel and an extra 160ft (50m) range at the back, the built-in panel antenna is perfect for one-way communication in unobstructed venues, such as church events, concerts. Open the box, power up the devices and, there you go, Solidcom M1 is ready for its mission!
*Kindly Notify: In the region of Russia Federation, the transmission range would be 1100ft+100ft=1200ft

External FRP Antennas (Comes in one pair)
The external FRP antennas are endowed with reliable transmission in 360° radius range of around 985ft (300m), ideal for large-scale events including sports events, exhibitions, etc.
ENHANCED AUDIO QUALITY
LEFT YOUR VOICE BE HEARD CRISP AND LOUD
With an all-round upgrade, Solidcom M1 guarantees smooth and clear group communication no matter how loud and complicated the background noise is.
INTUITIVE GROUPING AT A SINGLE TAP
Setting up groups with Solidcom M1 is an intuitive experience.
It's as easy as selecting the numbers of specific beltpacks and making them a group. Either through the base station, Solidcom APP or webpage, a group can be created and managed in seconds.

The system supports up to 3 groups grouping, you can flexibly allocate the beltpacks to team members such as lighting crew, camera crew, PAs, etc.
MULTI-DEVICE CASCADE CONNECTION
FOR HASSLE-FREE GROUP COMMUNICATION
Fitted with 4 different interfaces (2W (XLR connector), 4W (RJ45), POE/LAN power supply and cascading interfaces), the base station can be cascaded to multiple sets of different audio equipment only by connecting with a standard network cable or an XLR cable.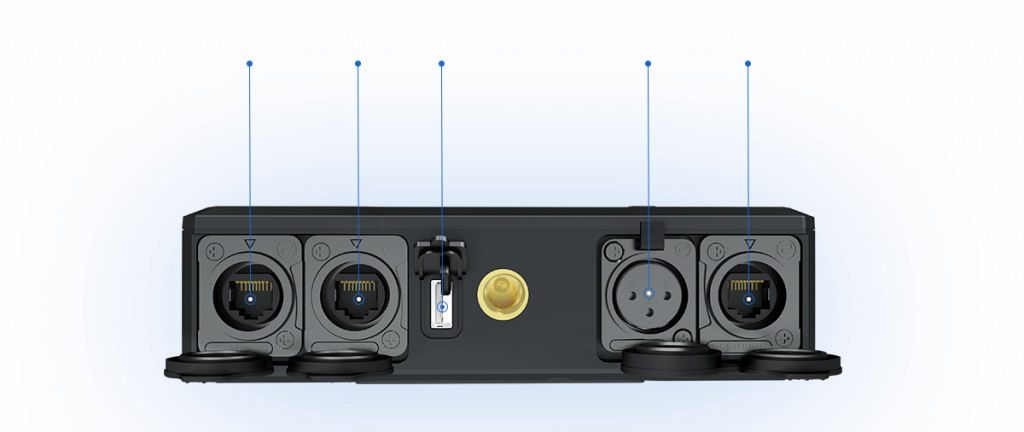 Each set of Solidcom M1 is equipped with 8 beltpacks. Simultaneous group calls for 16 people in 3 groups are made possible with 2 cascaded sets, with a standard network cable of 328ft (100m) for cascading, sufficient for staff dispatching of most events.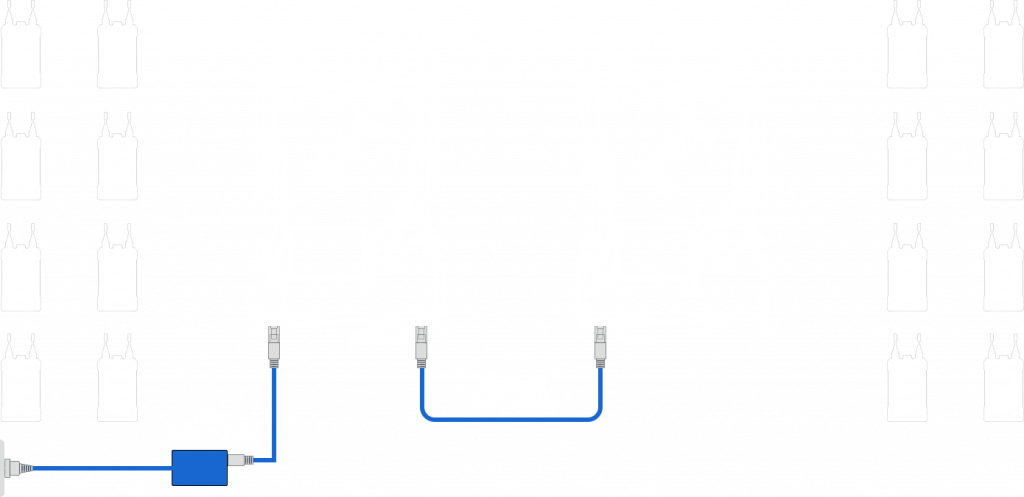 BORN RUGGED,TAKE IT ANYWHERE WITH YOU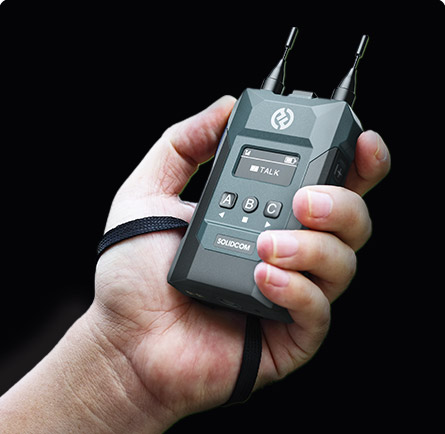 Adopting double injection molding technology, the beltpack weighs only 200 grams. The matte finish of it gives a comfortable grip and also makes it scratch-proof.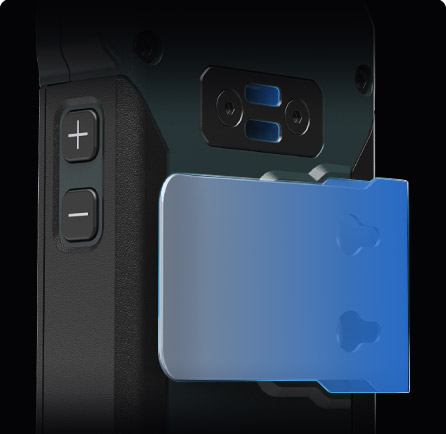 With the lanyard loop on the back clip, you can either attach the beltpack to your waistband or hang it in front of your chest with a strap.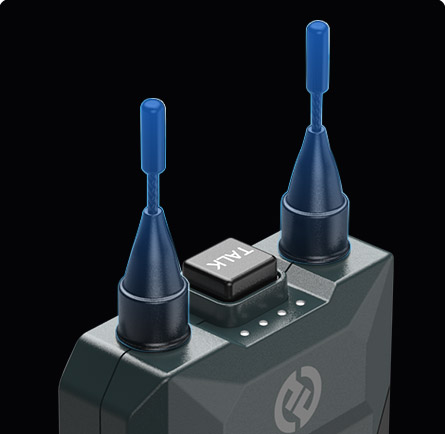 The antenna of the beltpack is of detachable design, making it easy to replace and, moreover, enhancing the durability of the whole set.
ERGONOMIC BUTTON LAYOUT FOR SMOOTH & PRECISE OPERATION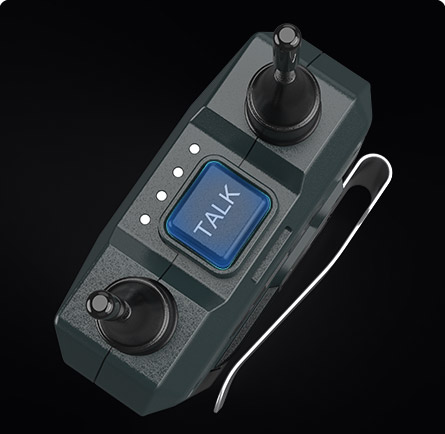 Taking users' work practices into consideration, the button layout of the beltpack is ergonomically designed. Initiating/ending group calls can be done by one tap on the Talk/Mute button on top of the beltpack.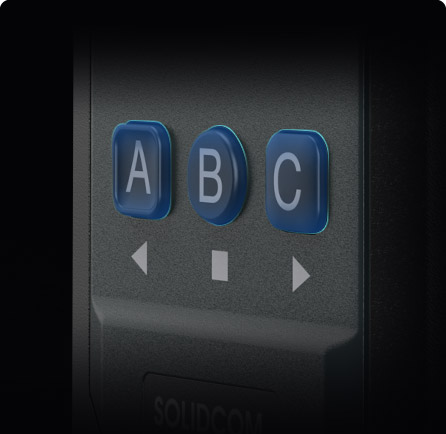 The three function buttons on the front of the device are of different shapes to avoid misclicking in emergencies.
Tthe beltpack is fitted with an HD LCD screen that shows all the info you will need at a glance.
OUT-OF-THE-BOX CONVENIENCE
The beltpacks are paired by factory default and are good to use out of the box. In the event of cross-area collaboration where changing or adding beltpacks is needed, users only need to connect the beltpacks to the base station via USB to Type-C cables to pair and group the beltpacks.
A PLETHORA OF CHOICES OF YOUR EARS
Solidcom M1 comes standard with professional LEMO headphones whose microphones can be switched on by putting down the microphone boom or vice versa. The headphone is also featured with the Sidetone function which allows the user to hear his own voice even with the headphone on and then adjusting speaking volume in time.
The beltpacks can also be connected to headsets with 3.5mm
connectors, offering more possibilities for personalized use.
SAY NO TO LOW-BATTERY ANXIETY
Each beltpack is equipped with 2 removable Li-ion batteries which can be charged independently and are fully charged in only 2.5 hours.With a 6-hour runtime for each battery, the beltpack will never be out of power when using the two batteries in turn.